Canine Extreme is a family owned and operated business located on 33 acres in Morriston, Florida. Owners Raul & Colby Hernandez specialize in offering a wide range of German Shepherds, from puppies to full-grown and fully trained adults.
Canine Extreme offers complete training services that cover everything from basic household obedience to private executive protection dogs as well as Law Enforcement. With decades of experience in the business, both Raul and Colby have produced countless working K9s throughout the USA as well as ten other countries.
The German Shepherds from Canine Extreme have become world renown for their quality, performance and health. When you contact Canine Extreme, you will be speaking firsthand with the trainers, owners, and family.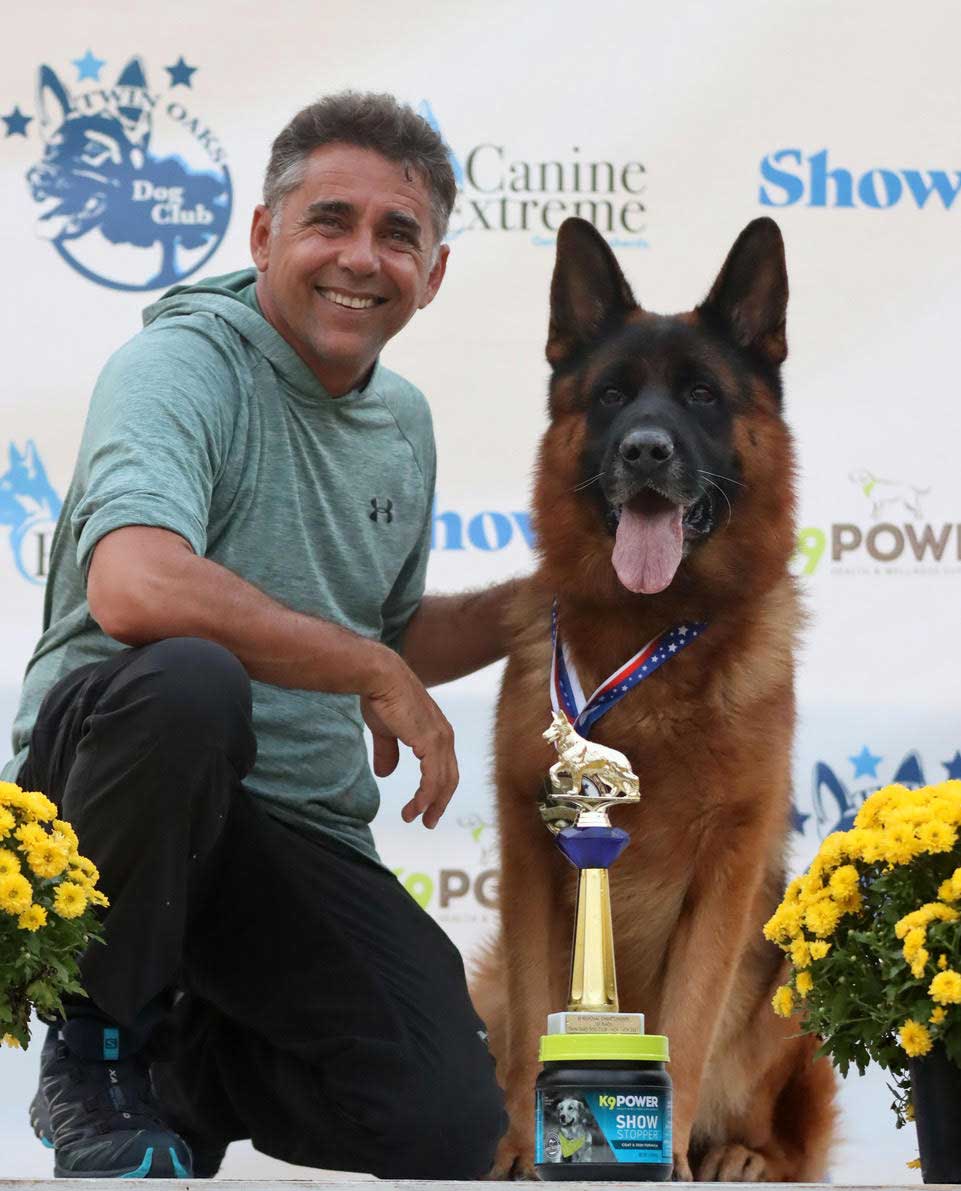 Raul was born in Cuba and immigrated to the United States during the Mariel Boatlift in 1980. It was in Cuba where Raul first developed a passion for animals, having learned dog training from his grandfather. Raul's career in law enforcement earned much success, working with his loyal K-9 partner 'Boye' in the fight against drugs. The pair accomplished several high profile drug seizures and received many commendations, setting numerous records during their tenure. After retiring as a K-9 Unit Sergeant in 2000, Raul was assigned to the FBI Task Force, performing searches for U.S. Customs, U.S.C.G. and U.S. Navy. Raul continues to instruct several different K9 units by providing seminars across the country.
Raul's philosophy not only focuses on the behavior of a dog, but more importantly on training the owner. A well-behaved dog is the result of consistent challenge and reward. He firmly believes in teaching each dog by positively reinforcing what "drives" it. Raul prides himself in matching the "right dog" to the "right home".
In addition to German Shepherds, Raul leads basic obedience group classes for dogs of all breeds, shapes, and sizes at the Canine Extreme Facility in Morriston, Florida. This location also operates as the headquarters for Canine Extreme's Junior Handler team: a carefully selected group of passionate trainers-to-be. The Junior Handlers travel as a cohesive extension of Canine Extreme for national competitions. 
Raul's twenty-plus years of experience has earned him the reputation of being one of the top breeders and importers of German Shepherds in the United States. He is best known for his positive reinforcement approach and ability to truly see what the dog is thinking. Raul believes in building a dog based on its natural abilities and strengths while allowing the dog however much time needed to do so.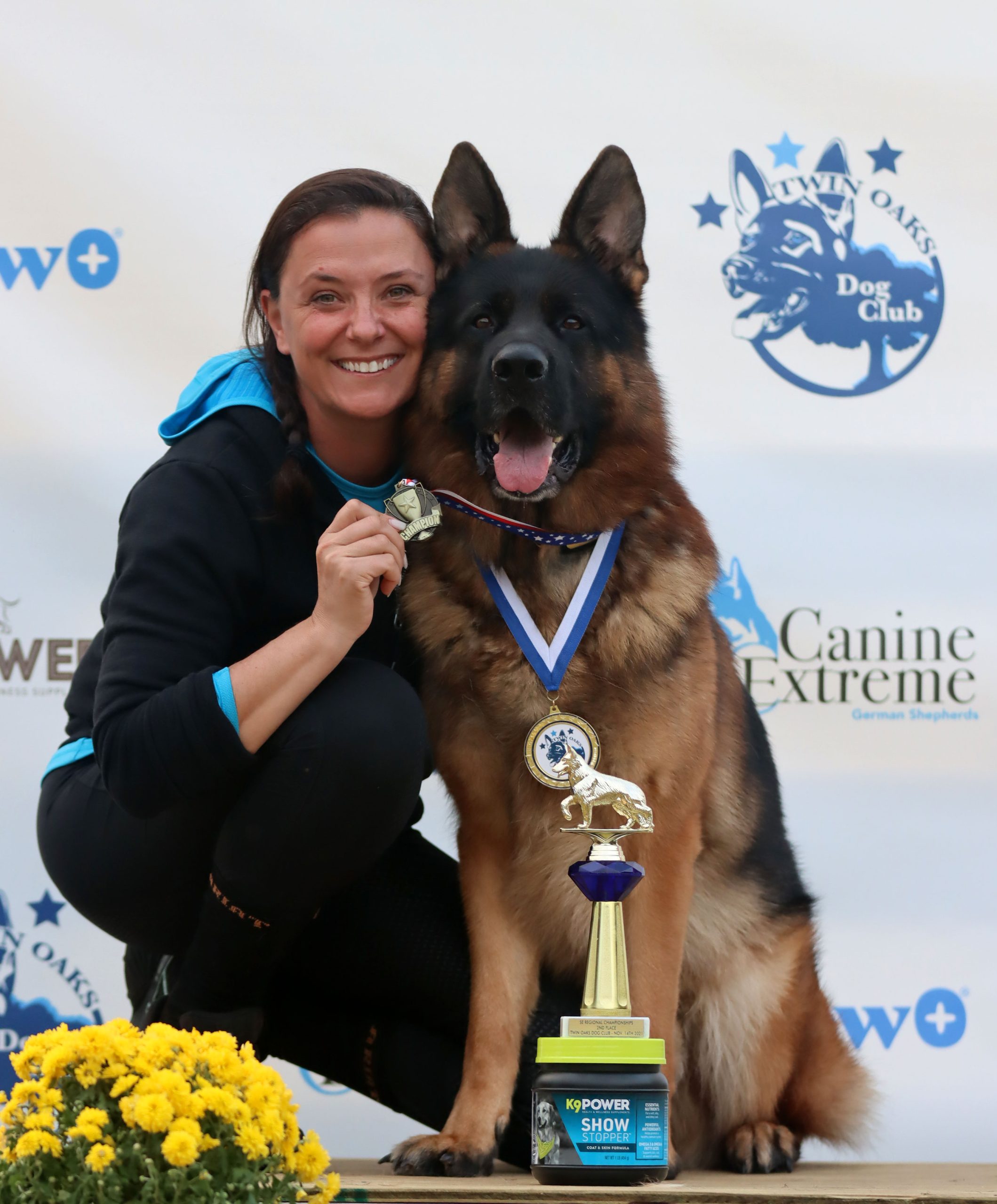 If you peek behind the curtain of Raul's talent, you'll see a machine named Colby orchestrating the show. Not one for the limelight, Colby prefers to work behind the scenes managing all marketing, media, as well as producing CE's premier canine competitions. 
Originating from the equine circle of northern New Jersey, Colby's true passion is working with animals. Colby was born with a sense of deep and abiding understanding of the horse and a willingness to guide them over daunting fences. An Olympic hopeful herself, Colby's 15-year show jumping career brought her to Ireland, New Zealand, and Australia to train with several Olympic medal-winning riders and instructors, with the bulk of her competitions taking place in the United States and Germany.
In 2005, Colby made a transition from riding full time to working in animal photography and graphic design. Her award-winning photographs have been published in dog magazines, books, and calendars. At the same time, Colby was lured into dog training by canine agility, an English sport based on equestrian show jumping. She proved to be a natural with her lab-mix-rescue-turned-best-friend, Scooter.
The first time Colby was given a German Shepherd to handle for obedience and protection, it became clear what her true calling was. Since then, Colby has worked and trained numerous dogs of all levels, for both law enforcement and personal protection. Along the way, her natural artistic abilities behind the lens teamed up with the guidance of Raul's dog training program,  and it yielded the perfect blend. It is the seamless collaboration between Raul and Colby that has made what Canine Extreme is today.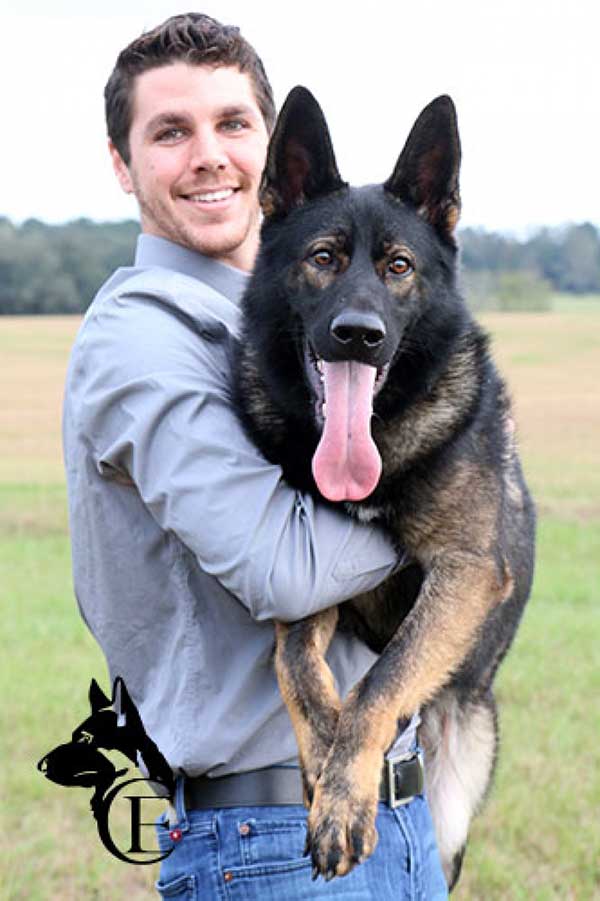 Alex Hernandez (son to Raul Hernandez) has been training dogs quite literally since the day he began to walk. Growing up with his father's guidance and expertise, he was eager to work the dogs in obedience and handle them for protection. During Alex's teenage years, he began to learn the craft of being an official helper in protection work and has since proven to have the fluidity and understanding needed to set dogs up for success. When he wasn't working in his father's pet stores, Alex assisted in all the group classes. 
It's no surprise that Alex has an incredible connection with the dogs, much like his father. He has the talent to communicate, teach, and build confidence with every dog. While earning his bachelor's degree in business at Gainesville, Alex continued to work and train dogs. After working closely with customers at chewy.com, Alex returned to Canine Extreme to take on the roll of office manager as well as lead all private trainings for South Florida customers.
Canine Extreme started its journey in January 2000 in Key West, Florida. The company was created by Raul Hernandez to fulfill his dream of providing clear-headed and well-trained German Shepherds to families and law enforcement. Raul never imagined that his idea would turn into the powerhouse that Canine Extreme has become today.
Canine Extreme has sold more then 150 police K9s all over the world, touching nearly every state in the US and several other countries including parts of Europe and Africa. Their family and executive protection dogs have also found homes all across the country and world including Europe, Middle East, Africa, Australia, Philippines, and more. The dogs from Canine Extreme have been featured in numerous publications, TV Shows, Movies and News Segments.
The client list for Canine Extreme includes all walks of life. Whether it be the family down the street, A-list celebrities, musicians, politicians, professional athletes, entrepreneurs, corporations, law enforcement or military, Canine Extreme prides itself on its privacy policy. The identity of all clients is kept at the utmost discretion. In return, clients are always welcome to visit the farm, chat with Canine Extreme to gain guidance for their dogs, and just be themselves.
During the early 2000's, Canine Extreme was a kennel, boarding, and training facility based in Key West. Raul Hernandez had an attached pet store to the front of the kennel called Pampered Pet offering dog supplies, small animal products, aquatic pets/supplies, and grooming. Each week, Raul would offer public dog training classes that welcomed all breeds. He saw anywhere from 80 to 120 dogs on any given day. One of those dogs was Colby's lab-mix rescue, Scooter. Once Raul & Colby started training together it wasn't long before they themselves became an unstoppable force in the dog world.
By 2008, Raul expanded his business with the help of his new partner, Colby (then Gwyn-Williams), by opening a second pet store in the Keys called Pet World Supply. The new location had a large astroturf field in the back for training as well as a massive two-story kennel. Although Canine Extreme was tucked away in the southernmost tip of the country, it quickly generated a name for itself. That same year, Raul and Colby worked on the set of several films with their German Shepherds, including Marley & Me.
The year 2012 was a big one for Canine Extreme. Not only was it the year the Colby and Raul exchanged vows, but they moved their entire training facility to a 33 acre farm just outside Ocala, Florida. The current Canine Extreme facility boasts large kennels, runs, and several training fields including: agility, tracking, IGP, and a half mile trekking trail that runs the perimeter of the farm. The property is so magnificent, its where the Hernandez Family calls home.
By 2013, Raul & Colby pivoted into the USA & SV Show rings. They started with a bang when Colby Hernandez took top honors in protection with her dog Vegas and V1 with Kongo v.d. Freshet Westerholt at the North American Seiger Show in Connecticut. The following year turned out even bigger for Colby & Kongo when they competed at the German Sieger (BSZS'14). The two were feature on German Television directly after their protection work and finished middle of the pack in the final ring. It was the beginning of a new phase for Canine Extreme. Since 2014, Raul was top honors in protection at the 2018 Sieger with Bruno v Grauen Ma-Holt. In 2017, Raul sailed into VA1 & VA2 positions at the USA Sieger Show in Macon, GA also giving the title to Holtkamper for being the first kennel in USA history to be both 1st and 2nd in the Working Class. The following year, Raul Hernandez managed Marlo Von Bacarra from Germany and also guided him to a VA1 victory at the 2018 GSDCA USA Sieger in Chicago.
With sport clearly in the blood of Canine Extreme, it was an easy decision to create their very own Dog Club. In 2019, Canine Extreme created Twin Oaks Dog Club. Right out of the gate, Twin Oaks Dog Club hosted the first ever Junior Handler National in the USA and paired it with the Southeast Regional Championships and Club Trial. Raul Hernandez had a history of running security for ESPN Boxing events in Key West, and Colby Hernandez had put in a few years of running Golf Tournaments also while in Key West. It came at no surprise that Raul and Colby had a knack for producing competitive events. Hence, Twin Oaks Dog Club quickly gained the reputation of hosting some of the best dog shows in the country.
The Hernandez family works harder than anyone at what they do because they love what they do and the most importantly, they love working together.
Raul and Colby both maintain memberships with the German Shepherd Club of America (GSDCA), Raul is a certified helper with the GSDCA and both Raul & Colby are Certified Canine Good Citizen Evaluators (CGC) in accordance with the American Kennel Club (AKC).