Training Facility and Farm
Canine Extreme Farm
Canine Extreme Farm is a privately owned and opperated facility that sits on just over 32 acres in the heart of Ocala. Centrally located between Ocala and Gainesville Florida, this facility boasts a main barn, kennel, whelping room, 6 acre tracking field, IGP field, agility field, various large turnout paddocks, run-in sheds, outdoor kennels and more. In addition to being one of Florida's premier dog training facilities it's also home to the Hernandez family.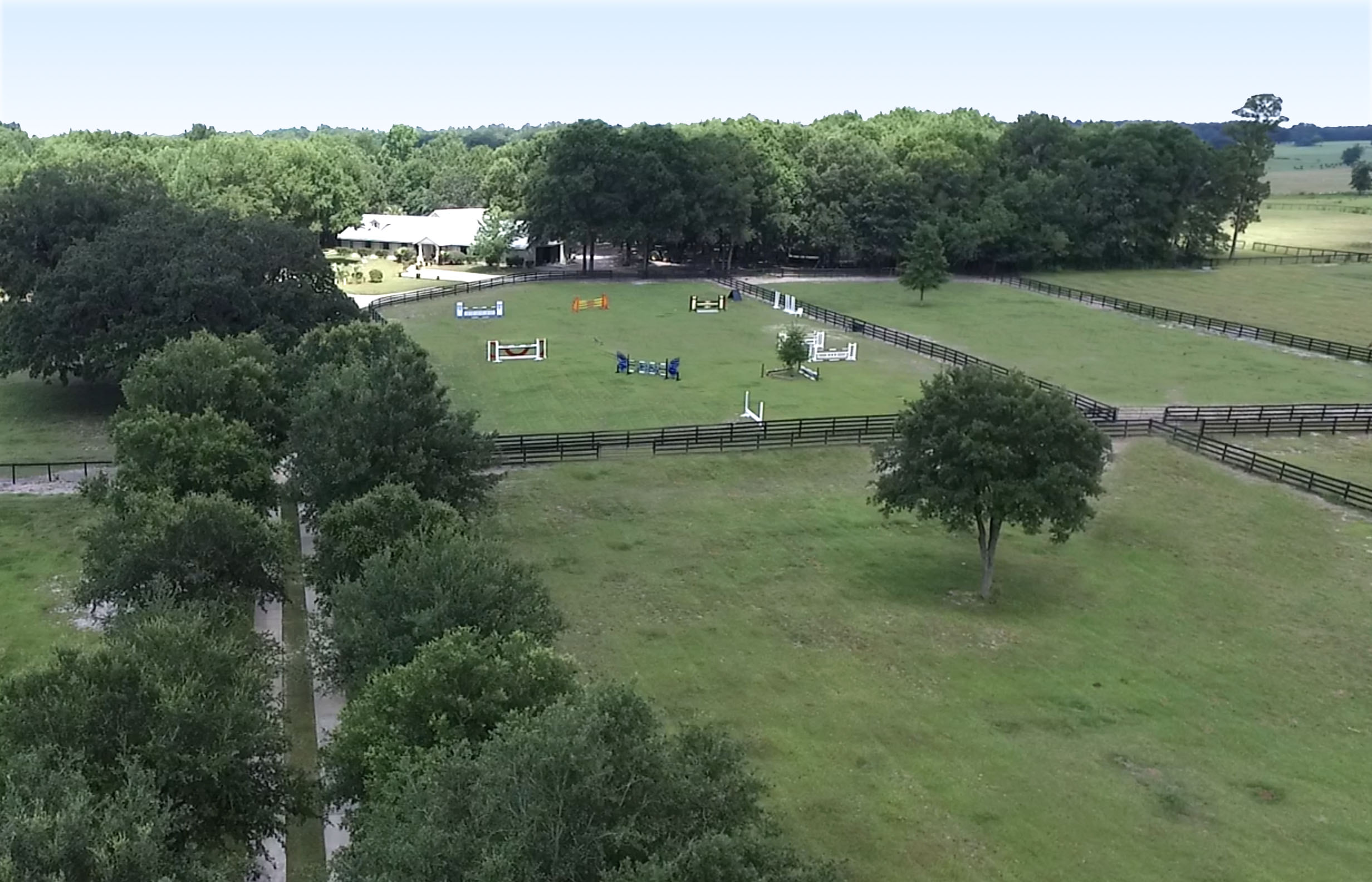 The Main Barn
The main barn is typically home to the elite of the Canine Extreme training program. Here you will find many of the dogs listed on the students section or stud dogs page. This is a 10 stall center isle concrete barn with wash stall, tack room, feed room, 2 tool rooms, office, kitchen, laundry facility & full bath all on the first floor. On the second level there is a studio apartment complete with kitchen and full bath. Most of the stalls are 16X16 and there are 4 foaling stalls as well that average 23-24ft in length. The Tack room, Office and studio apartment all have their own built in A/C Units. Fly spray system and hot/cold water runs throughout the barn.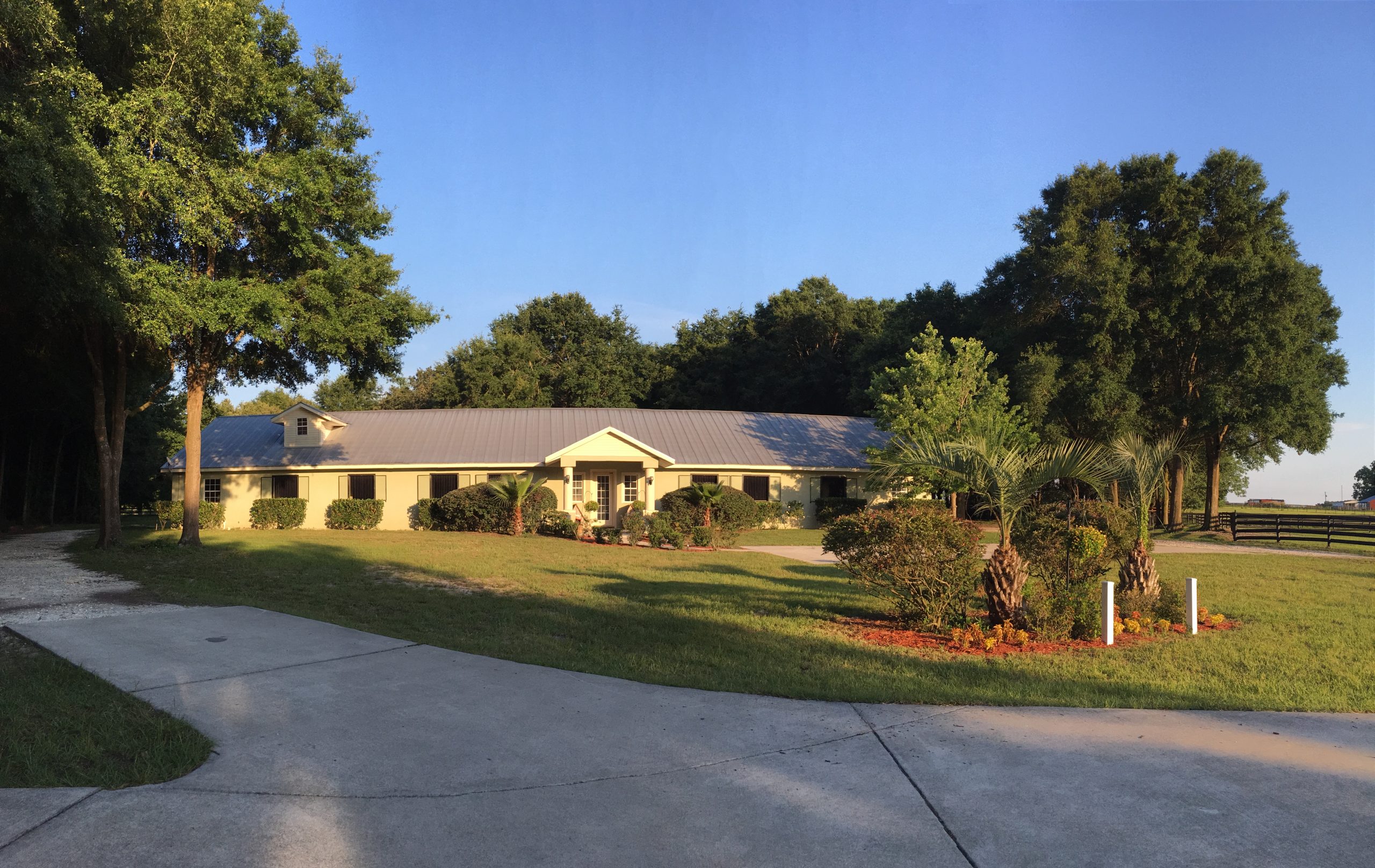 The Kennel
The kennel was constructed in 2012 by the original builder of the property. The kennel is a 40'X80' building equipped with 20 indoor out door runs and 2 A/C rooms for storage or small animal boarding. The kennels are indoor/outdoor runs manufactured by Mason Company which is the premier kennel company in the country. The kennels are 4'X10' inside and the outdoor runs are also 4'X10'. Each kennel has a sliding dog door which can be opened and closed from the center isle without entering the kennel. Each kennel door is equipped with food and water bowls that can also be accessed from the center aisle. Along the outside of the kennel there is an additional 10 covered, concrete outdoor runs. The kennel features an insulated roof which helps to keep it cool in the summer months and warm in the winter. The concrete floor has been pitched toward two main drains that run along the wall of the facility for easy cleaning and sanitation purposes. This is an inspected and licensed kennel in Levy, County. The kennel its own septic system which has also been approved by the county. In addition to the main kennel building there are various other out buildings including a whelping building that sites off the back of the house. This facility is a state of the art facility that is truly unparalleled in this portion of the country
Canine Extreme is not unlike many farms in Ocala, Fl. Here you will find free range chickens, horses, cats, rabbits, Jack Russel's and tons of wild life. This atmosphere is what makes Canine Extreme not just a training facility but a home as well. Here the dogs are able to take part in world renown training and clinics but at the end of the day they can also be apart of the family and enjoy the simplicity and happiness of farm life.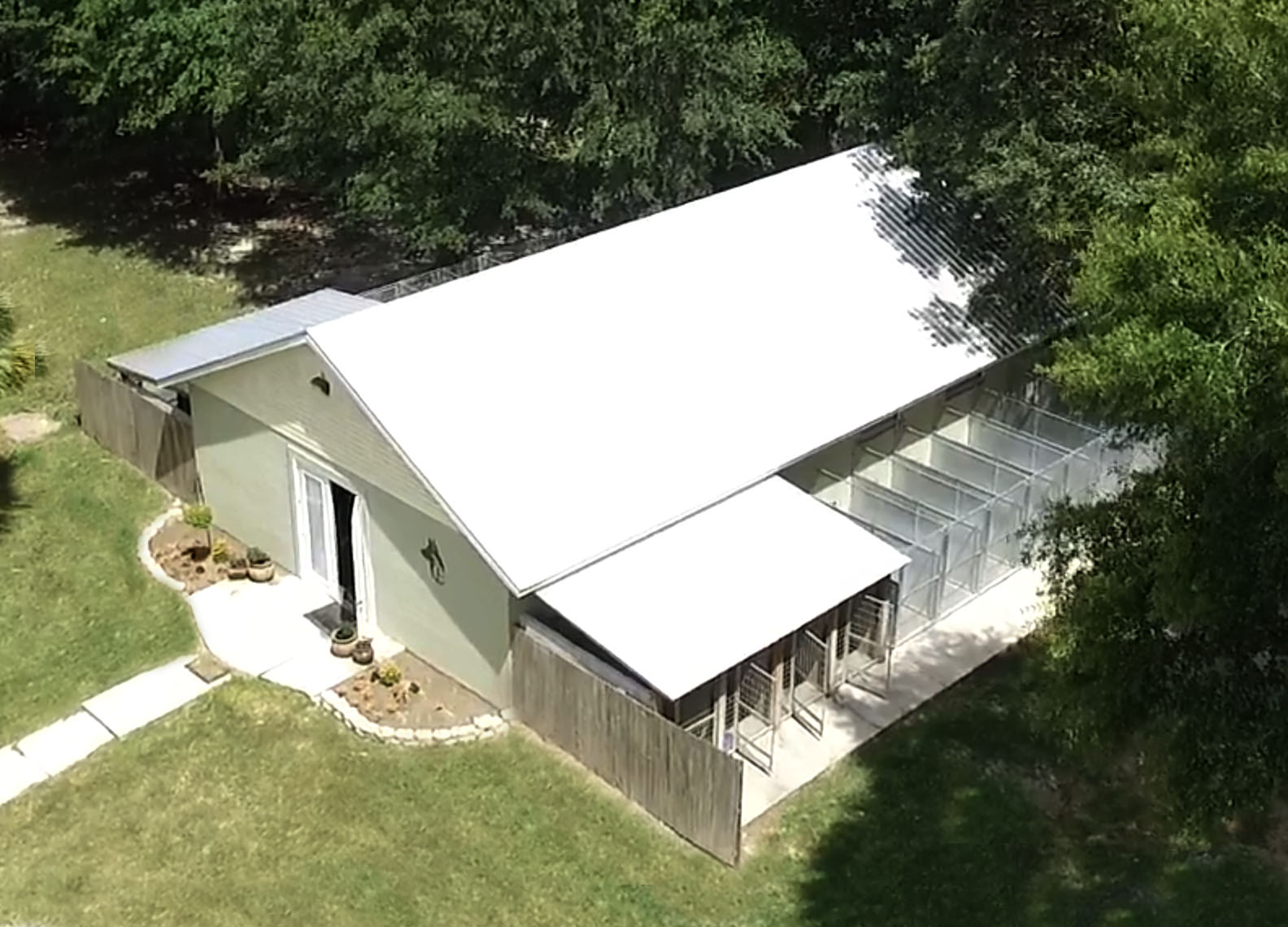 Dog Training With Canine Extreme
We train at our PRIVATE facility located in Morriston, Florida on a 30 acre horse farm nestled just outside of Ocala, Florida. At our PRIVATE compound, we are able to train for tracking, agility, protection and obedience in a quiet natural setting. We stress socialization and obedience in genuine situations and have the ability to use both city and country atmospheres to provide logistical life environments for training. Our dogs are trained with both voice and silent signal commands and adaptable to a myriad of situations. At our facility was also have horses, chickens, cats and various other wildlife that our dogs are socialized with and trained around daily.
Canine Extreme also offers public training courses for all dogs. We offer Private Lessons as well as Weekly & Monthly Boot Camps. Our lessons and programs are specific to each individual dog's needs. To find out more on these programs please feel free to contact us to find out about pricing and schedule availability.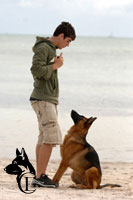 Basic to Advanced Obedience
Our canines are trained in basic and advanced obedience both on and off the leash. We use "real life" situations to train our dogs and have the ability to be "site specific" (warehouse, office, businesses, parking lots, yachts, etc.). Our staff uses the bustling Cities of Ocala, Gainsville and Orlando with its infusion of tourists and energy to facilitate the creation of the "bomb proof" dog that is comfortable and confident in any situation. Our Advanced Obedience Program builds on the basic come, heel, sit, down and stay both on and off the leash. Often depending on the country of origin, our canines are trained in English, Dutch, German or Czech. We focus our attention during this phase not only on the basic commands, but the integration of socialization and manners in a public setting. We encourage the application of normal societal interaction with both people and other animals and stress restraint and obedience in confrontation.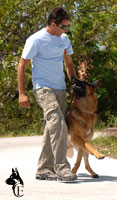 Agility
We have the capability to train for advanced agility disciplines. We train your dog to walk the dog walk, climb, crawl, jump and tunnel. Our agility dogs are adept at weave poles, see-saw, collapsible chutes, and pause table. Your dog can train on both grass and packed sand (more closely resembling many show grounds). We train both the serious competition dog in advanced agility and the home-grown Frisbee dog needing an additional energy outlet!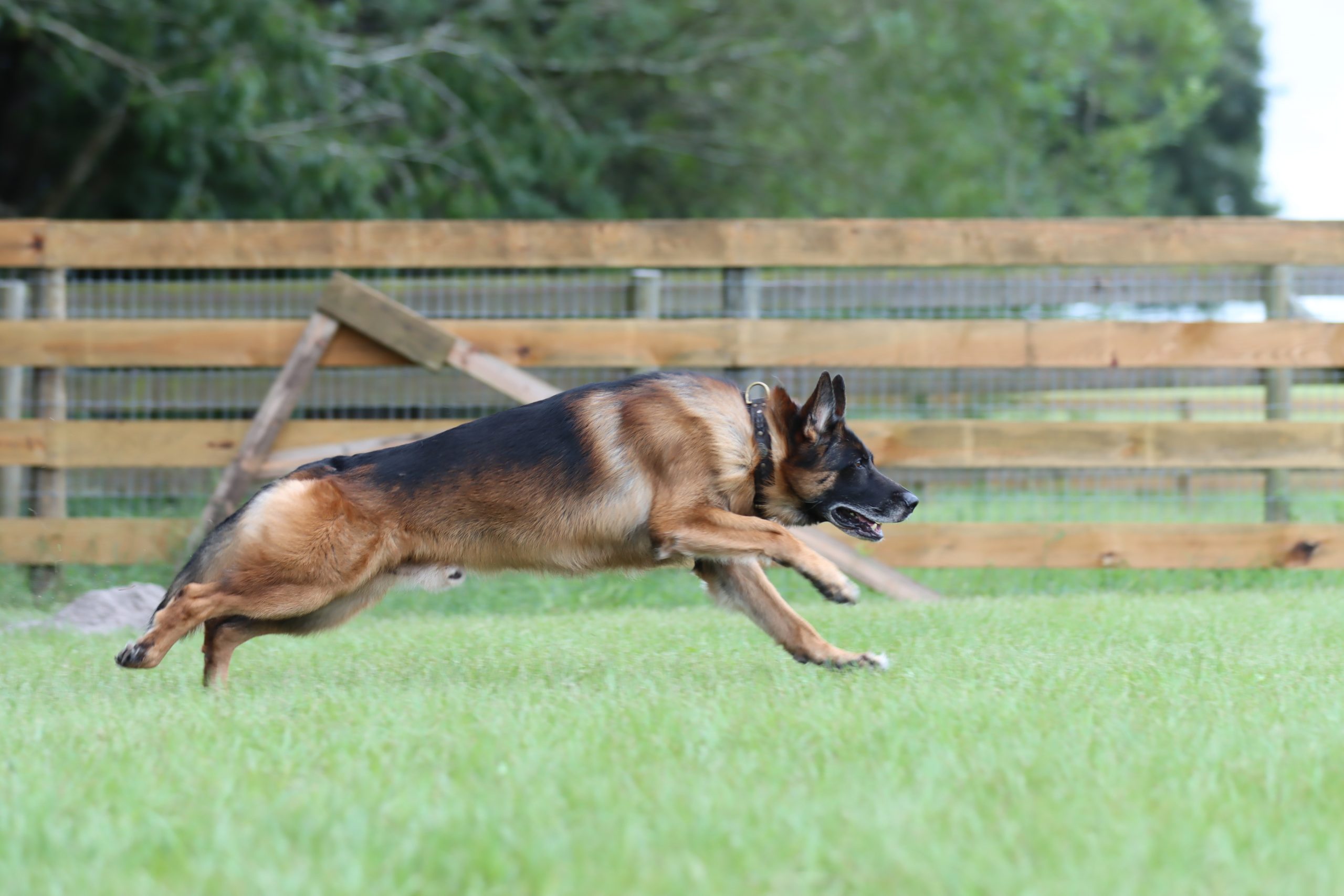 Executive Protection Dogs
Canine Extreme prides itself on its Protection Dogs. We would like to correct the common misinterpretation of "protection" dog relative to ferocity. We do not create mean or vicious uncontrollable dogs for protection, nor do we train dogs exhibiting these behaviors. Our first goal in training is Obedience. We place emphasis on the word "protection" and would like to make it clear that we do not train dogs to attack. Our canines are trained to protect their owners. Our dogs are trained to bite and hold, or simply hold as is necessary while responding immediately to your commands.
A dog is first and foremost a companion to you and your family. Even if you employ our dogs specifically to "protect" your premises (business, office, etc.) the ability of your dog to adapt socially to an owner must be vital. In a family situation you must have the ability to live a natural life. Your friends should be able to visit your home without feeling threatened, hence, our insistence on proper socialization. We train our dogs to recognize the difference between friend and foe, and even the difference when friend becomes foe. Lifestyle awareness is part of our training program and our Protection Dog can be both lovable and effective.
You will see many references to "Schutzhund" training with which you may not be familiar. While the word "Shutzhund" is the German word that refers to a "protection dog" there are several titles and disciplines that the term has come to encompass.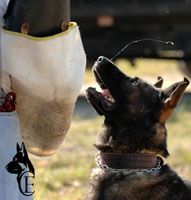 German Shepherd Puppy Training Program
The first 16 weeks of a puppies life are perhaps the most important. At Canine Extreme, Owner & Head Trainer Raul Hernandez personally selects German Shepherd puppies from each litter to enroll in our very own German Shepherd Puppy Training Program. The selection process for a puppy into this program is lengthly. Raul is looking at everything from character, drives, confirmation to temperament among the litter and so on. Each puppy is unique and we believe in selecting a puppy that has the proper requirements to successfully advance within our program. It is from Raul's many years of experience that he is able to select the proper puppy to not only advance in this program but also to succeed and meet the highest of standards.
ChanelBoye070314Our german shepherd puppies are started from an early age in proper socialization and learning their basic puppy obedience. They are worked daily around our training facility and learn to get along and work around many different types of distractions such as: horses, tortoises, chickens, cats, people and (of course) other dogs as well. As the puppies mature we begin to increase their level of distractions by taking the off the farm and working them around town (Orlando, Gainesville and Ocala). This allows the puppy to become very well rounded and ready for anything.
Puppies TrainingAll of our training consists of positive reinforcement and maintaining the drive. With our methods we are able to give each a puppy a good base in obedience and socialization without putting to much pressure on them. This way when a puppy graduates from our program they are proud to work and happy because being with you is the best things in the world.
The German Shepherd Puppies that graduate from our program will eventually advance onto many different careers. Some will work in law enforcement, some will excel in sport and the show ring. Other puppies will become part of families as their personal protection dogs and a very select few will be used in our breeding program.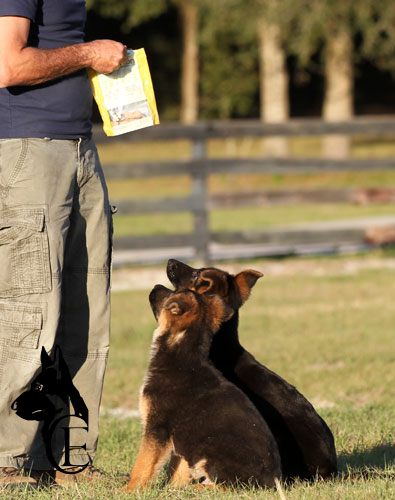 Enroll Your Puppy In Our Puppy Training Program
At Canine Extreme we also offer our Puppy Training Program for customers. This is based on very limited availability mainly due to the fact that our puppies receive so much one on one attention. Basically with this option we would help you select a puppy from one of our available litters that has the qualities and characteristics that you are looking from.Once the puppy is selected he/she would remain at our farm for an additional month training.
UmbroIzzyOnce your German Shepherd puppy is ready to go home we will give you plenty of homework to help maintain the training and drives. When the puppy reaches 6 months you many send him/her back for additional training or at 1 year you can send him/her back for "finishing training". We have been offering this program to our customers for nearly 10 years and I cannot tell you the amount of success that we have had from it. Our german shepherd puppy training program has not only been a tremendous staple in the quality of dogs that we offer the world but it has also helped so many families obtain the perfect dog and lifetime partner that they are searching for.
To find out more about this program or to reserve your space in our training program please contact us for more information. CanineExtreme@aol.com