We love getting stories from our customers! If you have something to add to this page please e-mail us at CanineExtreme@aol.com and mentioned that you wish to be added to our 'Testimonials' page.
We Really Appreciate all the Support!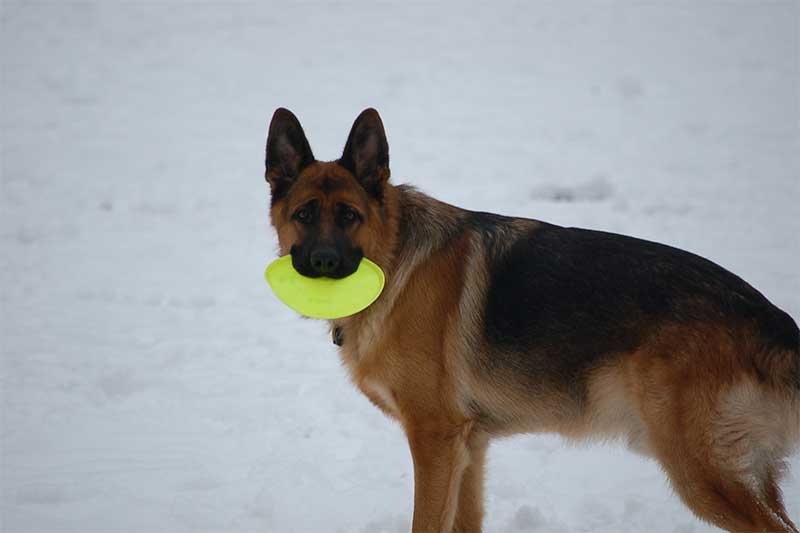 It has been over a year since I purchased Fritz from you. I just wanted to let you know that we are still amazed with him and he has become the most amazing dog ever. Fritz has been everything you promised. I know many people buy from companies they find on the internet and really don't know what they will get. I was one of them. I have been completely satisfied and impressed with my purchase, especially the other day. While playing the other day Fritz sprained a leg. I took him to the vet and they went ahead and x-rayed his hips just for precaution. When the vet came back in he said "your dog has ideal hips". He said they were perfect. He said Fritz just needed a little rest. I was happy and relieved and it was just another confirmation of the dog you sold me.
Thanks so much!!! Joshua N.
They Are The Most Responsible Dog Breeders in Florida.
May 2020 – Google Review
They are the most responsible Dog Breeders in Florida. Their love, dedication and training with German Shepherds or any other dogs is just amazing. Our family can't say thank you enough to Raul and his family for our Tora, we purchased her from Canine Extreme. She is the most wonderful sweet dog that we can possibly ask for. We love having Tora at the farm for training, they always welcome her. If you are ever looking for a dog training, or breeding, you found the best place in Florida without question.
Barbara O.
Our Newest Family Member Came From Them
July 19th 2019 – Facebook Review
Raul and Colby breed beautiful, balanced, healthy German Shepherd Dogs. Our newest family member came from them — she is a smart, sassy, happy pup. And, despite the long drive, we are delighted to return for training as often as we can. The training is the best I've seen. It's awe-inspiring to watch these dogs work so happily. We're grateful to have found them.
Andrea P.
Extraordinary Breeders and Trainers.
May 2020 – Google Review
Canine Extreme is the best of the best! Extraordinary breeders and trainers. They breed top quality, healthy German Shepherds. Exceptionally friendly and clean atmosphere. Absolutely perfect for all training needs for variety of breeds.
Tiffany M.
Superior To Any Other German Shepherd breeder!
May 19th 2019 – Facebook Review
After yrs of research I found canine extreme and by far superior to any other German Shepherd breeder! Have helped me every step of the way with training. Colby and Raul are truly passionate about their program and producing incredible quality dogs. They went above and beyond to accommodate me and my lifestyle with the perfect GS.
Maryann D.
Feel So Lucky To Have Canine Extreme In Our Life
May 2020 – Google Review
Feel so lucky to have Canine Extreme in our life. Our dog had been attacked by another dog and needed to learn to stop his aggressive behavior. Raul worked with us for months, and we finally made it. I would've never made it without their professional training, eagle eye, and Raul's ability to "read" a dogs behavior (along with the handler/owner). We still enjoy our time at their beautiful facility, and having the opportunity to meet other dog breeds and owners, as well as being subjected/introduced to other animals on the property that they wouldn't come across in other classes. If you are lucky to be evaluated by them and they take you on as a client, count your blessings like we have.
Sunny S.
Bought My Dog From Them
June 14th 2019 – Facebook Review
I bought my dog athena from them. She is wonderful, great with childern and other animals.  all around great dog.
Carla K.
Amazing Trainers and Mentors
August 2nd 2019 – Facebook Review
Amazing trainers and mentors! I have had the pleasure of training with Raul and Colby for four years and have advanced under their tutelage. I would recommend them to anyone that is serious about taking their dog to the next level.  I have done, board and train with two dogs with outstanding results. The follow-up and true investment on their part is humbling.  If you are looking to advance as an owner or handler this is a great coaching team that cares not only on the field, but in your day to day relationship at home.
Jayne F.
Fabulous In Our Training Session
January 30th 2020 – Facebook Review
Raul was fabulous in our first training session. He's training me and my dog, in terms we can both understand. He related a lot of what we were doing to my horse background. He's given me hope and faith in my dog while been very honest and enlightening about her potential and the time it will take. I'm looking forward to our next session.
Pamela L.
Always There To Help, Every Step Of The Way
January 29th 2019 – Facebook Review
I bought a puppy from them Best people I ever dealt with always there to help every step of the way I will be buying from them again real soon thank you Raul.
Anthony G.
Both Our GSDs Came From Canine Extreme
March 1st 2019 – Facebook Review
Both of our GSDs came from Canine Extreme and are/were wonderful dogs with great temperaments and good manners. Having recently lost one, we are looking for another older, trained dog from them because we trust Raul and Colby and their expertise with breeding and training solid GSDs.
Judy G.
Raul Is Truly Talented
Sept. 30th 2019 – Facebook Review
I have know Raul for over 30 years. He is truly talented and has a gift with all aspects of breeding and training GSDs. Colby and Raul have a genuine passion and love for these dogs that is evident in every dog and puppy they produce and train. I would highly recommend Canine Extreme.
Michelle P.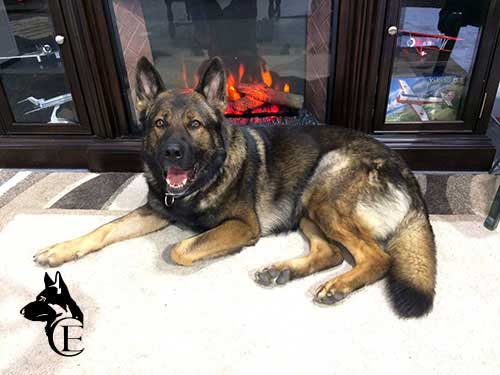 Happy New Year From Katan
Happy New Year From Katan!
Colby & Raul
Wishing you the best new year.
There isn't a day or even an hour that goes by without thinking how much we love our Katan.  Here he is in our airplane hangar in front of the fake fireplace in this picture.  He still has an excellent work ethic but love to be at our side just to play.
J & S
Airline Pilot
Good morning,
I operated a flight out of Key West this morning and wanted to compliment you on the dog that was being shipped out west. The dog was well taken care of from Key West to Miami, at which point it will be on another aircraft to its destination. I'm currently not in the market for another GSD but have your website now, thanks to the gate agents here in Key West. I look forward to exploring the website and seeing more of your GSD's on our flights.
Alex A.
American Eagle Airline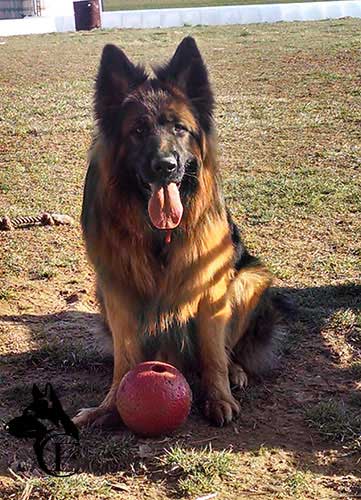 Preston C.E. & Family
Hello!!
I wanted to send you a picture of our Gussy (aka Preston Canine Extreme). He is everything we ever wanted in a dog! We completed his star puppy and he is great in obedience class. He is a wonderful companion for our kids and is just all around cool guy!
We appreciate everything and can't thank you enough!!
-C.S.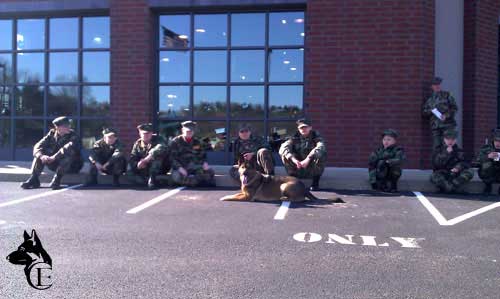 Greta - Washington County Young Marines
My 11 year old son, Jesse, is a member of the Washington County Young Marines. (A national organization affiliated with the Marine Corp). This picture was taken at a recent community service program, Toys For Tots, at a local Harley Shop. This past weekend, she did a 3 hour K9 demo at their boot camp. She located (tracked) 5 IED's (articles); sniffed out 5 bombs (her ball) located in their bunk house; gaurded the unit from an aggressive "undesirable" (long bite), gaurded the undesirable and prevented escape (escape bite) then escorted undesirable back to unit for interagation.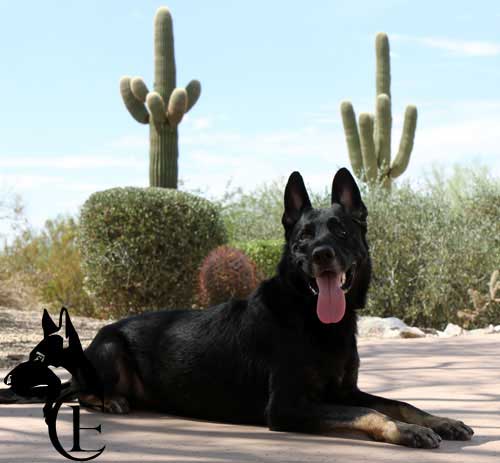 Richard, Pat & Knight
Hi Colby & Raul,
We want to express our complete satisfaction with the consideration and thoughtfulness you both exhibited in helping and guiding the selection of the perfect dog for us. Not only is he highly intelligent and completely compatible with our personal situation but the training that he and we have received is far better and more complete than any other we have encountered in the past 38 years with other breeders and trainers.
A perfect example is the noisy environment he was exposed to. The sound of machinery, lawn mowers etc which fostered steady nerves as was manifested by a comfortable reaction to my lawnmower being used in close proximity .
We could not be more pleased with the end result as well as the integrity and honesty you both showed in the total transaction. We can confidently recommend both of you and your dogs to anyone who asks us.
Thank you again for everything. Your new found friends,
Rich & Pat
Casey's Trip
Colby & Raul,
I had to email you to say, "Great Job". The quality of Casey's breeding and the quality of your training is unsurpassed. As you know, we went on vacation to visit family in Ohio. It was two days each way in the car for Casey, meeting new people, new places and hotel rooms. She was fantastic. I couldn't have asked more of her. She was perfect.
Thank you for her
Mike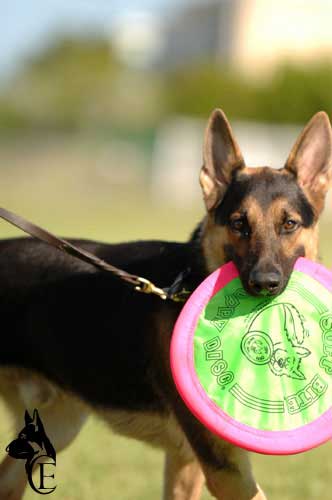 Judy, Bill & Kolt CE
Good Morning Colby and Raul,
We just cannot say enough good things about Kolt and the incredible training you gave him. Often times it is the subtle things that surprise us the most. Things like he knows not to follow us upstairs at night but simply follows us to the stairs, we tell him to stay and he does; we sit down to dinner and realize he has laid down close by but never begs; he loves his toys and never chews on anything else; he seems to instinctually know that Julio cannot run and play with him and so he gently plays with Julio; he can go from running and playing to totally still and quiet in an instant; we can take him anywhere on the property off lead and not worry about him running off or we can sit on the front porch and he stays right with us.
A couple of weekends ago we took him to a family birthday party which entailed traveling nearly 3 hours each way and it was hot. There were about 30 people there of all ages from 18 months to 70 years old and everything in between as well as an older little dog and a female shepherd mix who was known to have been grumpy in the past. Kolt was the perfect dog all day. Last weekend we had a large group here for the 4th. He doesn't like the pool and won't get near it but he also doesn't bark at the kids who are swimming and diving as Julio still does. Once told to leave something alone he remembers and doesn't try to go after it again. We put his toys in a toy box and, like a little child, he sorts through the box until he finds the ball or other toy he is looking for. So, just wanted you to know that we noticed these things and that we appreciate his training. He is an easy dog to live with and we are enjoying him very much.
Thank you!
Judy and Bill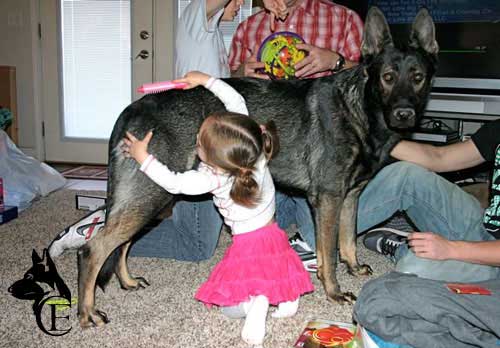 Gentle Giant
Raul and Colby,
I know I already sent you a pic of War, but had to share this picture. My 2 year old granddaughter got a styling set for Christmas which included curling brush, fake sissors and so forth. She decided to style War's coat, this shows you just how much he is apart of our family. This picture was taken in the mist of about 20 people at our home and our grand baby curling his hair. Not only is he protective he is very gentle with the kids. Just wanted to share!
Lisa
Thank You For Duke!
Hi Colby and Raul,
I thought you would like to hear that Duke is doing really well. He weighs about 26 pounds now and walks on the leash really well. We all love him dearly! He is so adorable and clumsy with his big paws sometimes, but he is getting more coordinated everyday. He wanted to be friends with Skittle, our Jack Russel, as soon as he saw her. He kept trying and trying to play with her, but she would ignore him. Finally, she realized that he was fun and now they are friends and play together. He loves to watch her chase the tennis ball, chase her, and now gets the ball too. Duke is soooooo good natured. He attracts a crowd when we take him to the kids sporting events. He lets everyone pat him, and so many people say they want a dog just like him. Also, everyone was very impressed that he was able to sit as soon as he arrived. I always have Skittle sit before she goes outside, as soon as the door opens, she runs out. Meanwhile, Duke would be still sitting really still looking and waiting for his treat. Finally, I learned to keep the treats by the door! He is such a cutie. Thank you for trusting your baby with us. We will take good care of him and always love him.
Duke's Family