Canine Extreme's Available Stud Dogs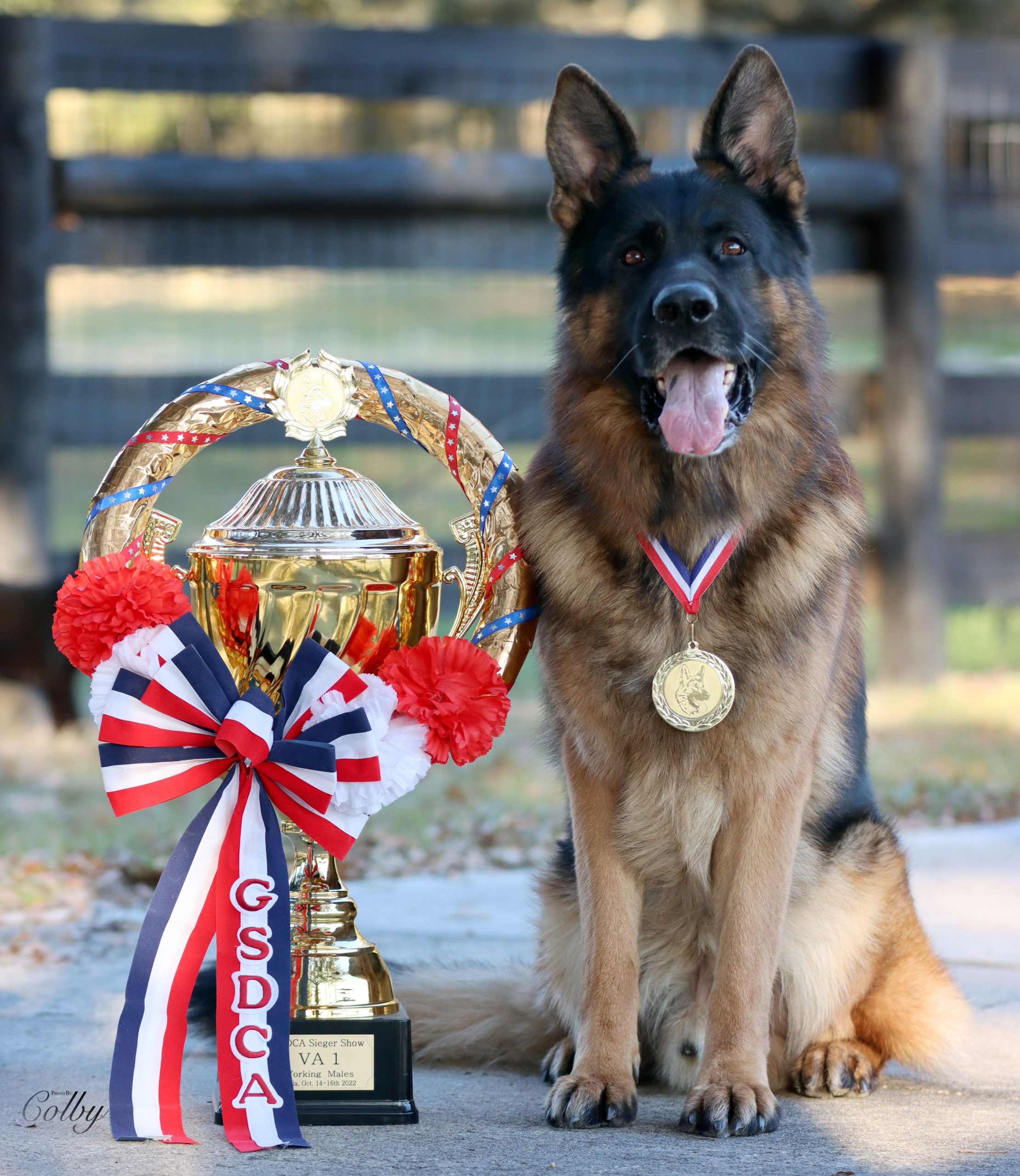 Canine Extreme proudly offers the largest selection and some of the finest German Shepherds available in the USA.  All the dogs you see listed below have:
Full AKC registration
Hip & Elbow certifications
Working Title
Conformation Title
We do request that the females who breed to our studs have the same standards that we set forth. Please be prepared to share pedigree information, and any health certifications when inquiring about our stud services.
All studs listed on this page are manged by Canine Extreme, however, not all these studs are located at Canine Extreme's main facility.  We offer live cover, fresh and frozen semen.  Availability depends on the stud.
Archie od Bastoria
TITLES: SG, IPO3, KKL
HD: Normal    ED: Normal

Sire: Bomber vom Wolfsheim
Dam: Eischa vom kleinen Zigeuner

Health Test: OFA Cardiac Clear, DM (N/A)
Available: Frozen
Ben vom Hesselgarten
TITLES: V, IPO3, KKL
HD: Normal      ED: Normal

Sire: Bomber vom Wolfsheim
Dam: Eischa vom Kleinen Zigeuner

Available: Frozen
Boss aus Famke's Zauberwald
TITLES: SG, IPO1, KKL
HD: Normal    ED: Normal

Sire: Canyon von der Lars-Aue
Dam: Falencia aus Famke's Zauberwald

Available: Frozen
Dasty Eqidius
TITLES: V, IPO3, SVV1, ZVV3, KKL
HD: Normal (SK)    ED: Normal (SK)

Sire:Sid vom Haus Pixner
Dam: Rena Eqidius

Health Test: DM (N/N),
Available: Frozen
Didi Mihapa
TITLES: V, IGP1, KKL
HD: Fast Normal    ED: Normal

Sire: Norbert Aritar Bastet
Dam: Qwerta Kedorb

Health Test: DM (N/N)
Available: Frozen
Fight vom Holtkamper Hof
TITLES: VA2 (USA), V11 (BSZS), IPO3, KKL
HD: Normal    ED: Normal

Sire: Peik vom Holtkamper Hof
Dam: Liselotte vom Holtkamper Hof

Health Test: DM (N/N)
Available: Frozen
Goran Eqidius
TITLES: V, IPO3, SVV1, KKL
HD: Normal    ED: Fast Normal

Sire: Passat Eqidius
Dam: Quela Eqidius

Health Test: DM (N/N)
Available: Frozen or live cover (Texas)
Hulky vom Holtkamper Hof
TITLES: V, IGP1, KKL
HD: Normal    ED: Normal

Sire: ASAP vom Aldamar
Dam: Ocean vom Steinburgerhof

Health Test: DM (N/N), Cardiac Clear,
Available: Frozen
Indoctro Canine Extreme
TITLES: V, IGP3, KKL
HD: Normal    ED: Normal

Sire: Team Marlboro Hilton
Dam: Whisper vom Holtkamper See

Health Test: DM (N/N)
Available: Frozen, Fresh, Live Cover
Kongo von der Freiheit Westerholt
TITLES: V(BSZS), IPO3, KKL
HD: Normal    ED: Normal

Sire: Chacco von der Freiheit Westerholt
Dam: Peggy von der Lengernheide

Health Test: DM (A/N)
Available: Frozen
Korado Catani Black Avax Hof
TITLES: V, IGP3, KKL
HD: Normal    ED: Normal

Sire: Margman Yes
Dam: Kimba Avax Hof

Health Test: DM (A/N)
Available: Frozen
Marlo von Baccara
TITLES: VA3 (BSZS), VA1 (USA), IPO3, KKL
HD: Normal    ED: Normal

Sire: Roy Terrae Lupiae
Dam: Yakimo vom Feuermelder

Health Test: DM (A/N)
Available: Frozen
Negus de Marka
TITLES: VA1 (USA), V (BSZS), IGP3, KKL
HD: Fast Normal    ED: Normal

Sire: Henko v. Holtkamper Hof
Dam: Irina de Marka

Health Test: DM (N/N)
Available: Frozen, Fresh & Live Cover
Odin Folinku
TITLES: V (LGZS), IPO1, KKL
HD: CZ (0/0)    ED: CZ (0/0)

Sire: Iliano vom Fichtenschlag
Dam: Fryga z Folinku

Available: Frozen
Quoran vom Ganzkower Schloß
TITLES: V (BSZS), IGP3, KKL
HD: Normal    ED: Normal

Sire: Henko vom Holtkamper Hof
Dam: Lisa vom Fourniermühlenbach

Health Test: Cardiac Clear, DM (N/N)
Available: Frozen and live (Texas)
Rudi v. St-Michaels-Berg
TITLES: SG, IGP1, KKL
HD: Fast Normal    ED: Normal

Sire: Xandur von der Pfalzperle
Dam: Yacky vom St.-Michaels-Berg

Health Test: DM (N/N)
Available: Frozen and live cover
Team Marlboro Hilton
TITLES: VA9 (BSZS), IPO3, KKL
HD: Normal     ED: Normal

Sire: Yuri vom Osterberger-Land
Dam: Team Marlboro Kamiah

Health Test: DM (N/N)
Available: Live Cover
Uncas Iveron
TITLES: SG, IGP1, SVV1, KKL
HD: Normal (SK)   ED: Normal (SK)

Sire: Luca vom Alten Schemel
Dam: Lea Iveron

Available: Frozen
Urso di Casa Caputi
TITLES: V(LGZS), IPO3, KKL
HD: Normal     ED: Normal

Sire:Arre vom Hühnegrab
Dam: Raissa von der Zenteiche

Available Frozen
Xandur von der Pfalzperle
TITLES: V (BSZS), IPO3, KKL
HD: Fast Normal     ED: Normal

Sire: Henko vom Holtkämper Hof
Dam: Tiffany von der Pfalzperle

Health Test: DM (N/N)
Available: Frozen & Live Cover (Georgia)
Ypps vom Holtkamper Hof
TITLES: V (BSZS), IPO3, KKL
HD: Fast Normal     ED: Normal

Sire: Henko vom Holtkämper Hof
Dam: Tiffany von der Pfalzperle

Health Tests: DM (N/A)
Available: Frozen & Live Cover
Zabax vom Holtkamper Hof
TITLES: VA6 (USA), V(BSZS), IGP2, KKL
HD: Normal     ED: Normal

Sire: Xandur von der Pfalzperle
Dam: Vienchen vom Holtkamper Hof

Health Test: DM Clear
Available: Frozen & Live Cover